As well as being the co-director and writer for Freehand Theatre, I am developing my writing in other directions.
Under One Roof
Commissioned by Polka Theatre, London.
Produced December 2006 to March 2007.
Shortlisted for the Brian Way Award for writing for children's theatre 2008.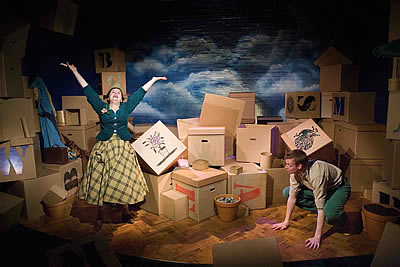 "That idyllic other world of make believe is explored with evident relish in this two hander for children aged 3 to 6. It's an intimate show, and as resourceful and imaginative as small children themselves can be when they're off in a world of their own...the three and four year olds sitting around me seemed wholly absorbed by Florrie and Todd's ideal home."
Time Out London
Click on the photographs, to the right, for bigger pictures. Photographs by Robert Workman.
Home
In 2008/09 Bristol based company, Travelling Light, produced the above play under the new title of Home at the Bristol Old Vic Theatre.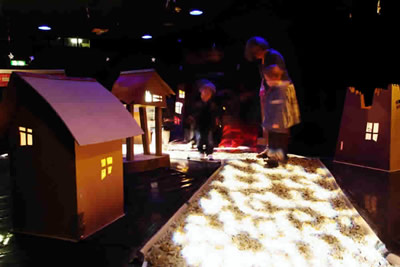 "'Here is where you are. There is where you are not,' suggests one of the characters in this two-hander from excellent Bristol-based company Travelling Light, which marks the welcome temporary reopening of the much-loved Old Vic. Home, of course, is where you make it, and for the homeless Todd (Andrew Francis) and Florrie (Maggie Tagney) it is in the imagination as well as amid the cardboard boxes.
"...In Sally Cookson's delightful production, Lizzie Allen's play for the under-sixes is rather like Beckett for beginners, a wonderfully concrete and yet infinitely playful meditation on the meaning of home. When bag lady Florrie enquires, 'Where are we?' and Todd replies, 'We are here', it is a triumphant reminder of their survival against the odds....
"It is a simple show, full of tongue-in-cheek seriousness and performed with utter conviction by Francis and Tagney as the pair who know that home is both a state of mind and a real place."
The Guardian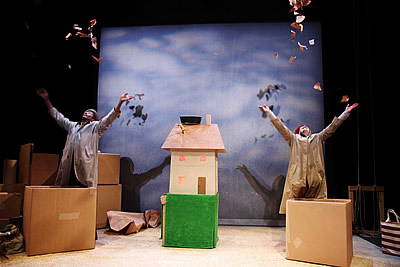 "After 18 dark months, it would be difficult to think of a more suitable first show for the Bristol Old Vic to choose to reopen its familiar Theatre Royal abode than this enchanting family tale about the search for a new home by two old friends...here writer Lizzie Allen and director Sally Cookson are at the very top of their form.
"The simple tale of how two footloose travellers, delightfully under-played by Andrew Francis and Maggie Tagney, turn a house into a home with a mixture of the obvious, such as young children, and the unlikely, represented by a giraffe, is both heart warming and decorated with a host of imaginative theatrical ideas. The use of various sizes of cardboard boxes to build the house is particularly effective, the accompanying score by Pete Judge is full of clever invention and the whole adds up to the perfect Bristol Old Vic homecoming."
The Stage
Click on the photographs, to the right, for bigger pictures. Photographs by Toby Farrow.
Working together
I really enjoy the collaborative process of working with other companies. If you are interested in discussing the above play or other commissioning/writing opportunities please contact lizzie@freehandtheatre.co.uk