Our work explores ideas through telling stories and tells stories through exploring ideas. Each time we create a production we start out on a new journey. At this stage we often feel as if we know nothing – despite our years of experience. We deliberately empty our bags for the journey so we can make space for the new ideas that we gather along the way. Through our work we hope to connect our creativity to the imagination of our audiences.
Lizzie Allen Co-director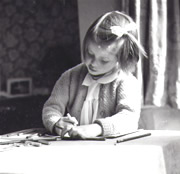 dressing up
reading
dancing to The
Sound of Music
sibling rivalry
daydreaming
wearing my Gran's knitted cardigans
And when I grew up...
drama at Bristol University
community arts worker, Derbyshire
Freehand Theatre – former performer, now writer, director, designer
still thinking...
Lizzie's play, Under One Roof/Home, has been produced in London, Bristol, Wales and America. Find out more.
Simon Hatfield Co-director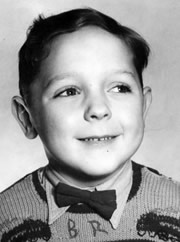 messing around in boats
camping
building treehouses
playing chess
wearing my Mum's knitted jumpers
And when I grew up...
history at Oxford University
PGCE at Leicester University
teacher of Media and Communications
community worker
Freehand Theatre – performer, designer, maker
Background
Freehand Theatre was created in 1982. It started as an experiment and we've been experimenting ever since. Our first incarnation was as Nomad Puppets and under that name we spent our first year touring America and Canada with our theatre on the roof of a Ford Maverick. Returning to this country we established Freehand Theatre in West Yorkshire and swapped the Maverick for a rat catcher's old van.
Now, more than thirty five years down the road, Freehand Theatre is a well established company (with a decent van!), with support (sometimes) from the Arts Council and Bradford Council and a history of high quality theatre productions. Over the years there have been many highlights including appearances at International festivals, a British Theatre Association Award for design, a Gulbenkian bursary for artistic development, performing at the Royal Festival Hall as part of an opera conducted by Simon Rattle and extensive touring that has taken us to a huge and varied range of venues.
In the 1990s Lizzie Allen and Simon Hatfield were artistic directors of the biennial Art of Puppetry festivals that they instigated and programmed in conjunction with the Alhambra Theatre in Bradford. More recently Lizzie has taken an active role on the Board of the Skipton Puppet Festival.
Most of our productions have been designed for children aged 5 and over but recent work has concentrated on children aged 3 to 7.
Creative Approach
A new production is developed over many months.
Ideas are explored, rejected, expanded, turned upside down and inside out.
Each production has its own style, its own aesthetic, its own language.
A puppet may be painstakingly carved out of wood or swiftly improvised from an object.
Lateral thoughts often lead us down a side path.
We try not to repeat ourselves.
We'll say that again. We try not to repeat ourselves.
In our work we look for humour, for poignancy, for empathy, for poetry, for spoken language where language is needed, for non verbal communication when . . .
Freehand Theatre likes, where possible, to work with creative collaborators. We bring in, as needed, composers, directors and designers.
Our work is designed to be experienced and relished by children. When we are making a new production, children are always at the centre of our thoughts. And there, in the centre of our thoughts, we meet ourselves, the adults. So our work is also there to be enjoyed by the adults in our audiences.
The journey continues...