Up in the attic, Norman is down in the dumps.
The rain is falling and it will not stop.
Will the ark sink or float?
The radio is making waves.
Don't rock the boat.
"a solo tour de force...the visual images were riveting "
Puppeteers of America Festival, Seattle
Marooned amongst his memories, Norman, a washed-up pirate with a worn-out patch, is writing a letter but not expecting a reply....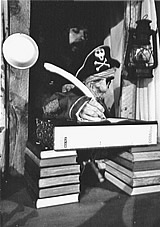 Told through the eyes of Norman, our puppet hero, and Simon, our plumber-puppeteer, Norman's Ark explores themes of loneliness and friendship, of isolation and communication, of myth and mystery – a veritable UNICORNUCOPIA of sound, image and language.


Written by Lizzie Allen, with original music composed by Mark Vibrans (whose credits include work for the Royal Shakespeare Company and the National Theatre)
"Norman's Ark is one of the best pieces of theatre I have seen for a very long time. A complete and truly rounded piece, the magic of it is still with me. Long may such innovative work thrive and survive and long may our schools and communities have access to it"
Arts Development Officer, Craven District Council

"This is a simply stunning production, the images are so vivid. The audience, ages 5 to 53, were captivated and motivated. We could watch it all over again."
Head Teacher, Fieldhead Carr Primary School, Leeds, Yorkshire