A man rediscovers the treehouse of his childhood -
full of buried memories, forgotten secrets
and Grandfather's tales.

A small boy looks up at a tall tree and wonders
if he will ever climb to the top.

The leaves of a family album fall
from the family tree.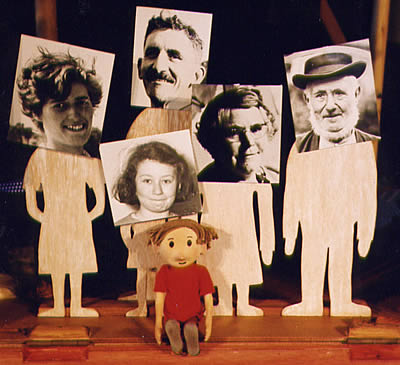 From the marvellous world of a treetop den, meet the paper-thin man, the not-so-jolly-jester, the woodcarver of dreams and the inimitable Twig family!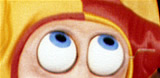 Through rhythmic language, a sense of the absurd and a love of trees, this gentle, funny and pertinent play will refresh your senses and take you to the very heart of the wood!

Written by Lizzie Allen; Performed by Simon Hatfield;
Additional music by Mark Vibrans
"I was enthralled by the show which not only caught the imaginations of the children but reminded the adults of the richness of childhood.

Performance, content and set were all of extremely high quality and pitched at exactly the right level to tease the children into concentrating and listening and imagining that little bit harder."
Arts Officer, Rotherham

"Of all the visiting groups that we have had in school there has never been another to compare with you in either imagination or quality.

Everything you do from the set, to the music, to the smallest puppet is so carefully thought out that the overall effect is quite staggering"
Head Teacher, Norristhorpe J & I School, West Yorkshire